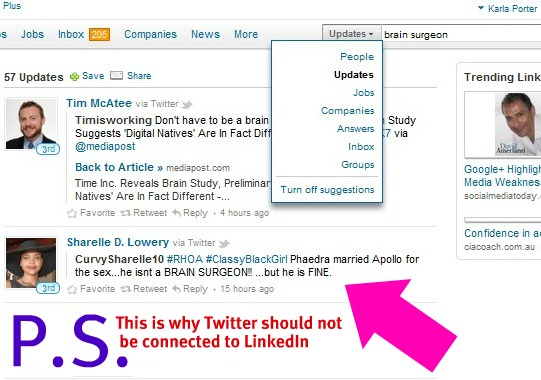 Many people create a LinkedIn profile as a virtual business card, never look back and never reap its true networking rewards.
In the upper right hand corner of every page on LinkedIn is a site search with 'people' as the default. The common use of the search field is to look for people you know or would like to connect with.Many people don't realize the box drops down to 7fabuloussearch features, each with their unique benefits.
Even the busiest, most time constrained person can upgrade their online networking activity by spending even 15 minutes a week with my drop down technique on LinkedIn.
It's great for people who need a little guidance and structure to their online networking to optimize their LinkedIn experience. I hope you'll like it and find yourself with a new coffee ritual in the morning.
People - Take the business cards you collected during the week and check your calendar for the upcoming week's meetings and connect. Personalize the invitations by letting your new contacts know you would like to stay updated on their activity via LinkedIn. Your network and access to the network of your new contacts will grow quickly.
Updates - When you search updates you are searching the global LinkedIn network. Use keywords for your industry, professional interests, someone in the news, technology - anything you would like to see the network perspective on. Click on profiles of people you would liketoknow more about and if you're interested - connect.
Jobs - Search jobs even if you love yours. Stay abreast of positions at the competition, learn who could use your services as a consultant during a gap, see where the turnover is - in short, job posts reveal a lot of information even for non job seekers. If you are looking for a new opportunity you'll see who you're connected to that could give you insider info and walk your resume to the hiring manager or HR.
Companies - The company profile is the perfect place to find consolidated information on news, recent company and employee activity, demographics, who you are connected to there, job openings and stock info if applicable. It's a great way to help prepare for an interview or upcoming meeting.
Answers - Search keywords to find conversations you can participate in with the global LinkedIn network. Crowdsource information and opinions, help build your reputation as a subject matter expert, find experts and - connect.
Inbox - You might notice from the screenshot in this post that I have a lot in my LinkedIn inbox. I don't delete everything. The inbox is searchable by name and keyword so for example, if I search 'human resources' anyone who has that in their profile or a message they sent me will return in the results. Keep your conversations unless they are junk, one day you'll be glad you did.
Groups - LinkedIn allows everyone to belong to 50 groups. This is a huge benefit because when you belong to a group you are indirectly connected to all its members and have access to them without having to connect directly. Groups can be searched by industry, occupation, university, geography, company/organization, natural resource, etc. You can join and leave groups, and not so long ago group owners were given the option of opening to the public. That means the content of groups that are open can be viewed and commented on by non group members. To start a discussion you'll have to become a member of the group however. Groups also have free job boards and many recruiters post there versus paying for posts on LinkedIn jobs.
Just drop down the search box and go through the options on a routine basis. Though it's definitely user friendly, LinkedIn is very feature rich and that can be intimidating for seasoned professionals just starting to explore online networking, college students and that C-level person who is working to overcome fear of the unknown.This is a great way to take the guess work out of the equation and form good LinkedIn habits.
What tips do you have to help build good LinkedIn networking habits?
P.S. Connect with me for LinkedIn in the mornings over coffee!
P.S.S. Check out the screenshot for real live proof of why you should not connect your Twitter account to LinkedIn unless the only tweets you make are 100% professional. LinkedIn is not the correct forum for entertainment gossip Sharelle.