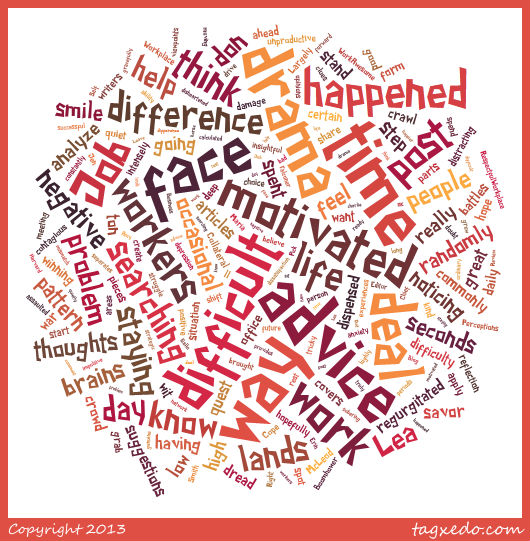 Job got you down? Well, that can happen to anyone. But, if it seems to be a pattern or happening randomly so often you are noticing it (or someone else is) - it's time to take a step back and analyze what's really going on and what to do about it. I spent time searching high and low for great advice for this post, so that you could just take it all in and savor it without having to do the searching yourself. In my quest, I read a ton of articles - these were the five I landed on as my suggestions for you to read because they stand out from the crowd of regurgitated vanilla advice.
Whether you dread facing the daily drama in the office, have difficult to deal with co-workers, find yourself in battles of will and wit but not winning the war, or have difficulty staying motivated enough to want to crawl out from under the covers and face the day, I'm 100% certain there is some form of hope for your situation. The advice in these five pieces is so good that it will apply to other parts of your life as well.
So, go ahead, grab a quiet spot and read what these 5 writers have to share. I think you'll find reflection and hopefully they will help you start to see a way out of that deep well.
Lea McLeod says the problem with drama is its intensely distracting. Largely its negative, and always its unproductive. Drama is kind of contagious. Collateral damage lands on everyone. Read Lea's5 Ways to Cope With Workplace Dramaand see if you can 'create a positive shift in your work life'.
The difference with meeting difficult people at work than in other areas of life is that we dont always get a choice about whether to spend time with that person.So how do we deal with co-workers we find difficult? Jen Smith at WorkAwesomeclues us in withDealing With Difficult Co-Workers 101.
Perceptions can be very tricky for most people. They believe that what they see or think, that everyone else should see or think as well. The problem is that we dont see everything the same because of the way our brains work, the way we were brought up and the experiences that happened along the way. Read the rest of Maria Boomhower's insightful thoughts ondealing with differences of opinions and viewpoints at RespectfulWorkplace in her post,But What If I Am Right?
Staying motivated is a struggle our drive is constantly assaulted by negative thoughts and anxiety about the future. Everyone faces doubt and depression. What separates the highly successful is the ability to keep moving forward. ReadHow to Motivate Yourself - Self Motivation by Editor in Chief, Erin Falconer at Pick the Brain to 'help grow yourself'.
Everyone has an occasional bad day at work or even long periods when they feel disheartened about their job. But how do you know the difference between ordinary, occasional dissatisfaction and a genuine mismatch? How do you know when you're truly ready to move on? And how do you then get out gracefully?Amy Galloprovides some sobering advice on being calculated and strategic - not impulsive, in her post atHarvard Business Review Blog network,Is It Time to Quit Your Job?
OK, now do the 60 second smile test. Just sit quietly and smile for 60 seconds.
Do you feel happier or did you give your face a charlie horse? Leave me a comment to let me know!