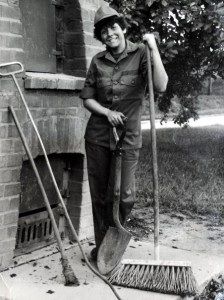 It's no secret I am a huge fan of the job the Federal Government has done during the current administration to implement and upgrade web based tools and e-communication to remain a leader in and example of effective organizational digital communication. Maybe it isn't on everyone's to do list but to me it's very satisfying to be able to participate in government through attending live White House briefings and meetingsand creating and signing petitions.
I watch several offices of government and at the top of the list is the Department of Labor.
My focus zoomed in to the Gmail alert of a DOL newsletter subtitledOur Special Salute to Heroes!Just in time for Veterans Day 2011 - I couldn't wait to see what the Federal Government had planned to help lower the unemployment rate for veterans, much higher than the population at large at 12.1%.
The deal is that as excited as I was to see a well crafted blitz of activity, I didn't see anything new about the new services listed on the new Gold Card. It's probably true that because of what I do for a living I'm more familiar with one-stop shop services available to the public, and especially the veteran, than most people - and I had a sudden and distinct feeling that the government wanted to pull the wool down over our eyes.
When Secretary of Labor Solis didn't get back to me in 24 hours I got really antsy. I wanted to promote it throughNEPA Veterans Multicare Allianceand a bazillion other ways but not until I had answers... I contemplated a few hours on Senators and Congressman and then decided 'nah'. Most if not all of them wouldn't know or understand the details even if they were in favor of them.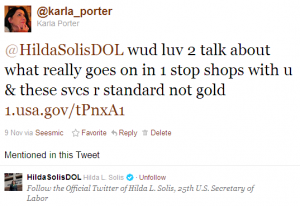 Maybe Hilda didn't answer because she was busy in North Carolina helping to celebrate the 236th birthday of the United States Marine Corps - oorah!But I didn't want to wait and I wanted to hear the real deal straight from the source, so I decided to pick up the phone and call the Department of Labor in Washington D.C.
It was rather like calling a corporate center except I wasn't told no one was available to help me but I could leave a message. A pleasant, very professional front desk person answered the phone, asked what the call was about and offered to connect me to an expert. Expert answered the phone on the second ring, let me know he was on another call, asked for my number and if he could call me back shortly, disconnected.... and I waited. In 10 minutes my phone rang and it was the expert.
It was explained to me that there hasn't been much money lately to create new programs and so while many - ok really all - of the services do currently exist, the initiative is new and some of the services and tools have been revamped.
According to theDepartmentof Labor, theGold Cardprovides unemployed post-9/11 era veterans with the intensive and follow-up services they need to succeed in today's job market. The Gold Card initiative is a joint effort of the Department of Labor's Employment and Training Administration (ETA) and the Veterans' Employment and Training Service (VETS).
An eligible veteran can present the Gold Card at his/her localOne-Stop Career Centerto receive enhanced intensive services including up to six months of follow-up. The enhanced in-person services available for Gold Card holders at localOne-Stop Career Centersmay include:
Job readiness assessment, including interviews and testing;
Development of an Individual Development Plan (IDP);
Career guidance through group or individual counseling that helps veterans in making training and career decisions;
Provision of labor market, occupational, and skills transferability information that inform educational, training, and occupational decisions;
Referral to job banks, job portals, and job openings;
Referral to employers and registered apprenticeship sponsors;
Referral to training by WIA-funded or third party service providers; and
Monthly follow-up by an assigned case manager for up to six months.
Eligible veterans canprint a Gold Cardhere. But don't bother...
The expert I spoke with was a very nice and patient individual who didn't rush me off the phone and clearly understood where I was coming from. He didn't have to tell me (and he didn't), I know that he didn't come up with this awful marketing campaign that is really just a spin on currently existing one-stop shop services available not only to veterans but to everyone.
Seriously, haven't veterans jumped through enough hoops? Is there a joker at DOL saying 'Let's have some fun and make vets jump through more and tell them to use their inkjet toner to print a voucher for services they already have access to without one'.
I'm all for awareness campaigns but this one is ridiculous.
You want some good news? Read my next post on innovative tools the private sector is rolling out for veterans at no cost to taxpayers, Tools for Veterans Transition From M2C.
Hilda - I still want to chat and I'm willing to come to your office to do it.
P.S. The expert at DOL did help me brainstorm some ideas on how the veterans nonprofit I volunteer with could work to provide additional support in civilian transition. He's a sharp ticket who has devoted his career through many administrations to trying to make things better. Thanks for your service ED.
P.S.S. Yep, that's me in the pic - not so fresh faced, burning the carbon paper that came between the 5-ply pin-fed printer paper that held info on things like Russian troop movements and the US Embassy hostages in Iran - because the industrial shredder was broken. It was broken for my whole tour.