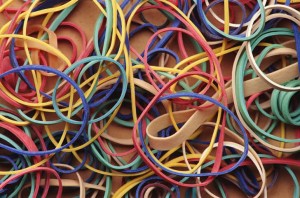 I can't recall a lick of information about getting a civilian job when I was outprocessed at McGuire Air Force Base in New Jersey, except 'go to the unemployment office and sign up'. I went the day after arriving home and the Vet Rep told me to go to the Eberhard Faber factory and give the slip of paper he wrote a note on to a certain Mr. Someone and he would give me a job.
I went and did as I was told and true to his word, amazingly that's how it happened. I filled out what amounted to be a formality of an application, Mr. Someone shook my hand and bestowed upon me the title of Rubber Band Packaging Machine Operator. I went to work the the following morning.
There were good things and areas of opportunity about that day.The company had acommitmentto hire veterans and would 'find' a job for them. The process at the unemployment office was well-meaning but as I look back knowing what I know now, it was fraught with failure.
Day one was interesting, I job shadowed and was marveled by the machinery, how the boxes were automatically folded, the timing of the assembly line and how whistles ran the place. Day two I mastered my job by lunchtime and in the cafeteria looked at faces more than twice my age who had never had another job, doing the same thing day in and day out forever. Day three I went in halfheartedly and resigned at the end of my shift.I'm as much a fit for a rubber band packaging machine as I am for ragweed farming - not. I'll bet I was a grand disappointment. I may have even appeared to be ungrateful, though I wasn't.
There have been milestone improvements in what was once called the unemployment office, renamed by the US Department of Labor as one-stop shops, with a different moniker in each state. The unemployment claims process was separated out and relegated to call centers and the Internet, leaving state employed career specialists the opportunity to source jobs, prepare candidates and make the match. It's still not swanky, clearly not cutting edge and still very blue collar oriented - but it has improved greatly. I'm sure there are centers of excellence - depending on the leadership and I know there are centers that still operate as if we were in the 80's. I won't give addresses.
One of the best advents to come out of the Department of Labor is O*NET, the nation's primary source of occupational information. Central to the project is the O*NET database which provides the basis for Career Exploration Tools, a set of assessment instruments. It has been recently retooled for veterans as My Next Move for Veterans. It's useful to military personnel and new veterans researching civilian careers. You can browse careers by industry or keyword and something new and super helpful is the ability to enter the name or code of your military classification for translation to civilian careers with similar work. You can learn more about DOL employment initiatives and opportunities for veterans here.
Three major forces of the Internet, Google, Facebook and LinkedIn have all stepped up in 2011 with products for transition to civilian life and career.
Recently, Google donated 600 Chromebooks to Walter Reed Hospital that can be checked out from the Red Cross so wounded members of the military can communicate, research and help plan their future. This past week they helped launch the Veterans Job Bank in collaboration with the National Resource Directory. And then they did something else equally as awesome and beautiful. They created Google for Veterans.
The Google Veterans Network is our employee volunteer community that strives to make Google a great place to work for those who have served, their families and their friends. We also aim to be a positive contributor to the veteran community at large. Google products and services have made our lives a little easier - whether we are still in the service, transitioning out, or on a new path in our civilian lives. We wanted to give back to the community and help other veterans and their families discover how useful these tools can be. So we created Google for Veterans and Families - a collection of free and useful tools from our veterans' community to yours.
The description is humble to say the least. They have assembled a very powerful suite of tools - some you are already familiar with and others that are new, based on Google technology. The site is made up of four main tools. VetConnectallows vets to find other vets with similar experiences. Google Veterans Channelis a YouTube channel for videos and discussions related to military service. Resume Builder powered by Google Docsprovides auto-formatted resumes, andTour Builder powered by Google Earth(coming soon) will display 3D maps of veterans service histories, complete with photos and videos. Visit, you won't be disappointed.
Facebook recently rolled out U.S. Military on facebook. There are many, many pages on Facebook that are military related but until the launch of this page there has been no consolidated effort.
Our goal is to bring together resources and information to help the millions of military personnel, veterans, and families stay connected and informed.
The page's Career Resources are still slim in variety but I expect - hope - they will grow. Right now they rely on BranchOut and Military.com, a Monster Company and the largest military and veteran membership organization 10 million members-strong. Facebook is of course the great friend finder, it's where I found my Air Force buddy Debbie after a 28 year loss of contact. Search the word military on Facebook and you'll find enough affinity groups and pages to keep you busy for a long time.
Not to be outdone,LinkedIn and the White Househave joined forces to kick off the first ever Veterans Hackday. They invited hackers to put together projects that can improve any aspect of a veteran's life. For encouragement, they assembled a phenomenal lineup of judges; SumitAgarwal, Former Deputy Assistant Secretary of Defense, Tim O'Reilly, Founder and CEO, O'Reilly Media, and Jeff Weiner, CEO LinkedIn. Wow.... I am following the action at @LinkedInEng and simply cannot wait to see what they come up with!
In the meantime, visit LinkedIn's new microsite for Veteranstailored with tips, tools and information to help veterans find new opportunities across LinkedIn, including a free one-year Job Seeker subscription for all US veterans and current service men and women. Be sure to knock out a a great profile and join groups likeU.S. VeteranandU.S. Military Veterans Network, to find profiles of veterans who have made the transition to civilian careers.
I'm filled with joy that now, more than ever before, military personnel can start exploring and preparing for their M2C career transition from wherever they have an Internet connection.
P.S. I read a ton of Veterans Day posts but 100 Ways to Honor a Veteran by Breanne Harriswon my heart. It's timeless and full of splendid ideas big and small for honoring veterans everyday ofthe year. You should read it.