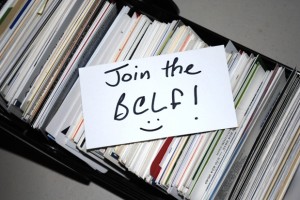 Over the past three years I amassed enough business cards to fill a plastic business card holder six inches deep and a Ghirardelli holiday chocolate box. Business cards also randomly fall from the visor clip in the car, seem to procreate from being so close together in my wallet, have formed legions in the bottom of all my purses, bags and laptop case, and often fall out of books where they have been mandated to mark pages.
I have made earnest attempts to return to the office after each meeting like a good organized professional, sit at my desk, pull out the CardScan and get those suckers uploaded into my contact database. But, when I get back to the office I have more to do than organize business cards. I don't even think it's a good use of my time. I don't even feel right pawning it off on delegating it to an administrative assistant and clearly not an intern (I don't want to be anyone's professional mentor horror story).
Then there's the whole dastardly business of what to do with them. I feel guilty for throwing them away because I understand the cost involved in producing them. OK, maybe I'm a sentimental hoarder because I have greeting cards from the 80's. Neither here nor there... I recently made a pledge to never accept another business card again and not to own any either.
This is my real business card collection in the pic - do you know of any business card crafts?
Some people still collect them and put them in business card keepers in alphabetical order (or not) and or write the info into an address book, and then maybe also type the info into Outlook or some other online contact database. All that and a bag of chips, I don't like people that much to keep repeating their contact details.Seriously, I have joined the BCLF - Business Card Liberation Front.
So, I made that up - whatever.
The other day I went to a meeting and the site administrator proudly brandished an expensive clean white heavy linen stock business card with blue print and gold leaf at me while asking for mine... Michael, thank you but I'm going green. Let me just snap that and reply with my contact info. His response?
What????
Yeah bud.... this little electronic device, barely larger than a business card itself, is like my best friend. Now hold the card by the edge for me and smile.... Snap! The information teletransported via CamCard directly into my device contact directory and then through Google Sync right into my Gmail account. With two more clicks on the keypad he had my contact info through Contaxx(Just for Blackberry - don't be a hater, find your own i/win/android apps).
Spock would be proud.
P.S. I paid for my own CamCard license and Contaxx is FREE - just to keep the record straight.