I read an interesting post by Rita Ashley, Career Coach, that asks the question - Do you want your employees to be happy or satisfied? I started to post a comment but it was getting ridiculously long so I decided to move it here and reference it there. I am at odds with this portion of the post:
Inc. Magazine posted an article by the founder of Zappos on why he sold to Amazon. The article bears reading for many reasons, but I was struck especially by its emphasis on happy. I think that is an error in focus.

The whole idea of an employer making employees happy is presumptuous, in my view. There are too many variables not in the employers control. And an individuals view of their happiness quotient changes, constantly.
Happy is quite a few notches above satisfied. Satisfied to me is really only acceptable and Zappos really shoots for happy. Tony Hsieh's "social experiment" is the practice of hiring employees who find happiness in delivering an exceptional customer experience. When it comes to companies that build their brand on superior customer service --> happy employees are exactly what they need. The business of customer service demands employees who take ownership of the customer experience, delight in helping others and derive not satisfaction but pleasure from it. It's the only way to have staff who doesn't burn out quickly and get frustrated listening to complaints all day. My experience as the former manager of a team of 50 customer service reps taking calls for the nation's largest food manufacturer is, satisfied doesn't last as long as happy and it doesn't perform as well either.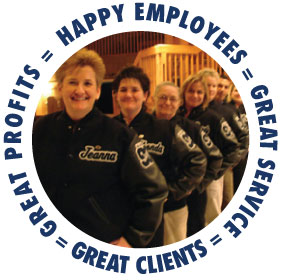 Employers looking for people who would be happy doing the job can attract them by advertising for them, source passive candidates who are a delight to work with and may be open to other opportunities, work to have an employer brand that attracts them and walk the talk with internal and external customers and clients. The happy staff they have will be natural ambassadors and recommend the place to others they would like to work with, so a great employee referral program is important.
Employers can assess if candidates would be a happy addition to their staff by using psychometric tools and well designed situational, behavioral and performance based interviews and ensuring they understand each individual's motivators to assess if they are a potential fit with what the company offers. They can implement job shadowing and observe interest, allow team members to meet with them and get their feedback too. Most importantly, it is essential to be honest about culture, performance and reward when speaking with candidates. Promising Utopia and once on-board delivering a barren waste land will make even a happy person turnover.
Though having a 100% success rate at hiring employees who will indeed be happy at work is an unrealistic expectation, it is something to aim for. Rita is right, "some folks have it, others dont."
I say, try diligently to hire those that have it.. You can do it.
In fact, one Amazon distribution center recently began experimenting with its own version of Zappos's policy of paying new employees $2,000 to quit if they're unhappy with their jobs. ~Tony Hsieh
Go Tony =)