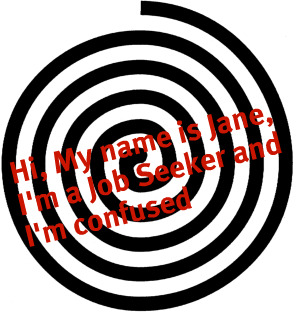 I have been noticing something lately that's bothering me. That is an elitist attitude and unrealistic expectations from many of us versed in social media recruiting. One of the most disturbing comments in this dialog came from someone who said, "candidates don't need cover letters, they need to know how to bypass gatekeepers".
How many job seekers even know what gatekeepers are and is it reasonable to expect they should?
I don't think so...
Would you expect someone who focused on the job they had the past 10, 15, 20 years or more to know how to look for a job in the web 2.0 world? I'm talking about nurses, accountants, quality assurance analysts, paralegals, draftsmen, and even those in HR professions like benefits specialists, coordinators, etc. In fact, a lot of people do not use use the Internet, and many not even computers, in their jobs. Think manufacturing, transportation, construction and agriculture to name a few of the very important and fundamental industries that make the world what it is.
While so many of us are caught up in the "ether" of social media, the fact is, many more are not quite there yet and we don't have a right to demand they participate or learn to love it.
I sent a co-worker a Google doc so we could work on it collaboratively. She sent an email back saying she absolutely refused to get create a gmail account because she does not want to "have an Internet presence". She is a talented professional and spreadsheet whiz who simply refuses to go online. Her job never requires Internet use and those times she does use it she surfs anonymously.
One could argue that if she wants to move ahead in the world she should do what a few thousand recruiters using social media want. But, is it a reasonable expectation?
Another co-worker has flat out told me the Internet will be the downfall of mankind. I went in his office one day to show him the animoto photo video I created of a recent event. His computer did not have the required software installed to view it. His comment was that he only uses Microsoft Office products on the hard drive and has never used the Internet. He does not have a personal computer at home. He used to work for IBM.
This isn't uncommon. I manage a human resources task force made of HR professionals in the community who, with the exception of one member, are leery and confused about social media. Very few of the companies they work for have a social media presence and none of them are involved, even those who are generalists and recruiting is a part of their job. The most they do is use major job boards.
I'm assisting a grad student doing her thesis project. She needed to make a contact with someone at a particular research company. I suggested she search my LinkedIn contacts and I would make an introduction. She asked what LinkedIn was.
I could go on and on. In real life is a different demographic than in the social media sphere. Online applications and assessments are scary to a lot of people.
This brings me back to cover letters and the recent dialog regarding them. Justin Hillier makes a case that the best way is the video interview in his Social Recruiting 360 blog in response to my post Standing Out in the Crowd, on the art and purpose of cover letters.
Two days ago I received a resume and cover letter from a downsized 15 year VP of a bank. I searched him on LinkedIn, he wasn't there. I searched him on Google and there were some mentions of him in corporate newsletters. That was it. I doubt suggesting he ditch his finely constructed explanatory cover letter in lieu of a video production is the practical way to go at the moment.
What do you think?