While scoping out and vetting resources to help military veterans find jobs this past fall, I created an account on Vet Success and did a walk through by uploading a resume and filling out a profile. That was it. I wrote my annual Veteran's Day resource blog postand since I'm professionally satisfied I never went back to the site.
I also never heard anything from them or an employer posting jobs there for FREE (hint, hint). In fact, I forgot I even created a profile there. Until today...
Deep in the middle of happy work, a text message sounded off. It's not that I'm easily distracted, but my mobile device - yep, BlackBerry, is a serious work tool for me. I checked it and it wasn't at all what I expected.
It was this: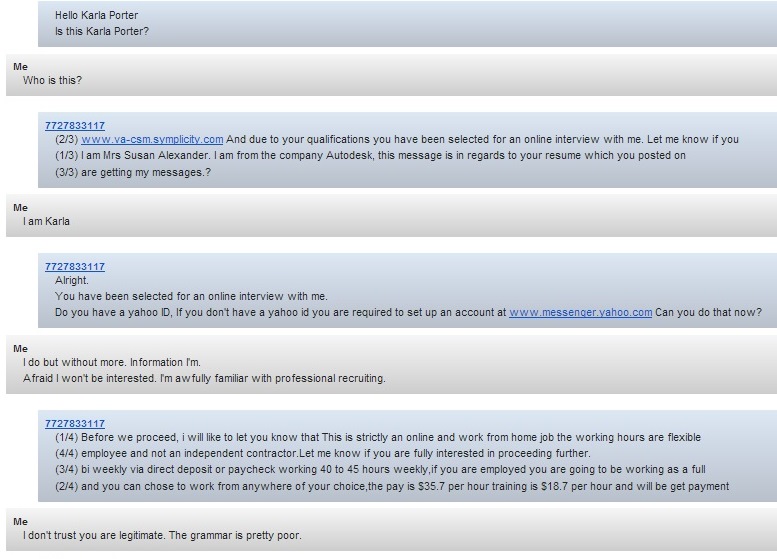 The reason I am writing this post is to alert and motivate job seekers to be skeptical and cautious. Some people mightinstinctivelyfeel joy and jump on Yahoo IM and spill out all kinds of personal information and even end up providing a bank account number for direct deposit to be able to have this wonderful opportunity to earn $37.70 per hour working from ANYWHERE, with paid training to boot.
You can see that when I called Mrs. Susan Alexander's bluff she went away. Because this is not a person named Susan Alexander and this is not for a real job. This is a phishing scam for a bank account number........
Clearly, some clever deviant has registered as an employer in order to view profiles and resums of veterans looking for employment and gained access to contact info in the process. This is not uncommon and it happens on any job board or resum posting site where con artists can gain access to your personal info.
Job seeker beware.
Please.
P.S. I typically would never disclose someone's personal phone number - but I have no mercy in this case.