You show up every day, maybe you work long hours. You give your heart and soul and take pride in your work and accomplishments. You just want an honest day's pay for an honest day's work - and RESPECT. You have tried to make nice, reason with the losers and you get shot down time and time again. You can throw in the towel and quietly leave or you can go public and stick it to the man...
And by the droves people do.
While it may be too late for them to love their jobs, a visit to a employee rant site could provide useful information to help others not repeat their unfortunate experience by reviewing what they have posted.
We have all seen job tweets and Facebook posts, some good, most bad. They can be hit or miss in regard to effectiveness, depending if the company is monitoring its on line reputation. If you're serious about checking out an employer there are two sites dedicated to monitoring workplaces and bosses that are as serious as you are.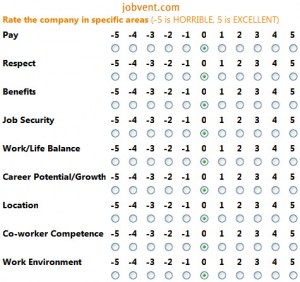 You can check out company culture rated at JobVent. Current and ex-employees evaluate 9 specific areas of their employment and have 6,000 characters for gory or delightful details, depending on their experience. The reviews are anonymous and the guidelines stipulate no personal attacks by name, title or initials, and no obscene, violent or hateful comments.
Reading through several random vents I found many to be emotional, whiny and even "ah ha gottcha". It's understandable that hurt and poor experiences can have a huge influence so don't expect impartiality.
The reviews that are positive often have the air of an infomercial. It's entirely possible they are just very satisfied loyal associates... or that they are written by the marketing department in a lame attempt at damage control. In any event, a bowl of popcorn is all you need for low cost entertainment at the expense of others.
The problem is that you don't know if what you are reading is fact or fiction, although when several comments read like deja v it only makes sense to think there is bound to be some truth amongst the lore.

If you read my post on how to survive bully bosses you know I couldn't agree more with the philosophy "Nobody should have to work with a jerk". A click through the website eBossWatch is a sobering experience. Although posters remain anonymous, bosses don't.
The anonymous survey lets employees rate their boss so they can "warn other people about a bad boss or recommend a great boss". It appears large sectors of, if not entire teams, post about their bosses, for better or worse.
The Founder, Asher Adelman, runs the daily operations of eBossWatch. He says that he decided there had to be a better way for people to evaluate prospective employers after experiencing first-hand the nightmare of working for a toxic boss.
He is serious about the site's mission, just read the eBossWatch blog with categories for the worst and best bosses. Tucked between an amazing boss in Whitehall, PA, who donated his kidney to an employee and the owner and CEO of a bank who gave his employees 60 million dollars is the eBossWatch doozie list of the 25 Worst Bosses of 2009. Adleman provides the substantiated proof on why they made the list. They take tips too for anyone wanting to expose a toxic boss. Submit the information and they'll check out your claim.
You can follow eBossWatch on Twitter and be a fan on Facebook.
Both sites have been recognized by national media and any employer should take it seriously if they end up mentioned for good or bad (of course the celebration will depend on the category in which they appear).
As a job seeker you would be remiss if you didn't take advantage of these tools to screen potential employers. Don't ever forget, employment is a 2 way street.
Have you ever vented about your job on a website or using social media? have you ever been the subject of employee venting?
I want to hear all the juicy details.