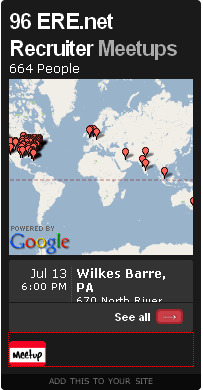 Recently, after giving it a whole 1/10th of a second thought, I enthusiastically signed up to be the local meetup organizer for one of the national Recruiter meetups to be held July 13th at 6pm local time, as promoted by ERE. For the first time ever, Recruiter Meetups are going to be simultaneously run in cities around the U.S. Its going to be a great opportunity for recruiters to meet and network with other recruiters in their area.
I decided to put a spin on the event to provide added value.
You see, we have local chapters of some great professional associations that many of us belong to, but the truth is that HR, Recruiters (corporate and 3rd party), Workforce Development Pros, Employment Specialists and College Career Services, we never get together across disciplines to meet one another and network. It seems its always for a meeting, seminar or conference and its difficult in those environments to find time to establish rapport, build relationships and learn how we can help one another.
And, we can improve how we work together and share best practices and resources we can have fun doing it too.
So, wont you join me and the other enthusiastic employment professionals who have already jumped on this incredible opportunity for networking and a cash bar? You are welcome and encouraged to forward this invitation to your network to your co-workers, peers, colleagues, bosses, reports, wherever they may be if they can crawl, walk, drive, fly or row in they will be most welcome!
Join us Tuesday, July 13, 2010 at River Grille in Plains on the deck overlooking the river.
Please RSVP and if there is something you would like to add to the event, dont hesitate to let me know!