I'm writing to you from a 29.25 sq ft slice of perfection - my bed and preferred work environment. The dog, a cat and a latte are with me and my Inspiron... The last thing I want when I'm trying to be productive is button gap in my blouse or garter slippage. I need to be comfortable and my clothing needs to move with me not against me for productivity's sake. Therefore, I'm prone to liking pajamas and clothing that most closely resembles them.
Since I don't actually work from home I have wardrobe challenges and a closet full of suits that look swell on the hanger but feel like straight jackets on. I don't need to dress like a Trump to feel good about myself or confident.
So, when I saw this LinkedIn poll about ideal workday attire I was intrigued to see how others feel. Unfortunately, the creator of this poll didn't have the foresight to have pajamas as one of the options, though I don't disagree with respondents that a soft pair of well worn jeans and a T are the best of the choices offered.
What is your ideal workday attire?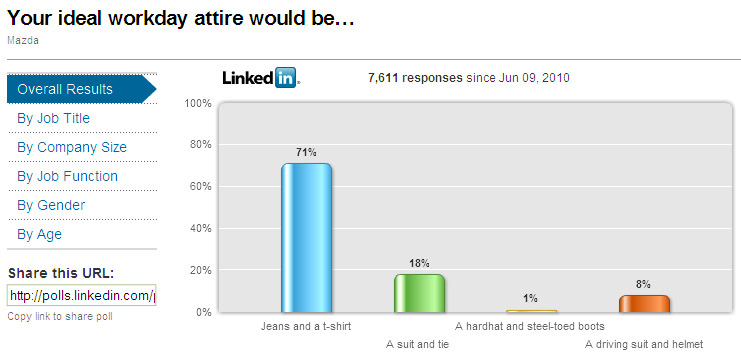 P.S. If you bought that bit about me and garters you're a sucker...