First, the pre-visit video on what I was going to talk about. While I made this video I spilled 1/2 of a cup of coffee all over the papers on my desk. Luckily I had filed most of them away in these days of server outage. I'll bet you can't tell, because I am used to this kind of thing. Two weeks ago at Solutions II Job Camp I spilled 1/2 a glass of water while at the podium. Same thing, I just smiled and kept on going...
OK... I'm back! There were about 40 students in the class. All but three were from out of the area. Most were business students with a sprinkling of nursing majors. I asked them a lot of questions so I knew where I stood.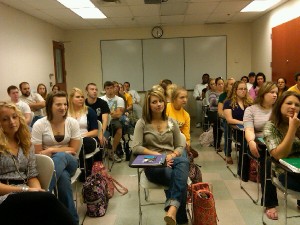 How Many have a Facebook? 38
Twitter? 3
LinkedIn? 39 - Seriously? The professor chimed in... it was a class project.
How many of you use your LinkedIn profile? 2
Who has a personal website or blog? 1
How do you think social media can advance your career goals? Nada......
It might be shocking to learn that most college students think that companies just use social media to see if you posted "bad" photos of yourself and to read your online resume. That's why I love to speak to students.. to let them know they can be in the driver's seat of their careers by following and friending their future colleagues, gleaning expert advice from industry professionals, meeting mentors, questioning companies about career paths.. all while they are viewed as non-threatening knowledge seekers.
When I entered the room I put a stack of business cards on the desk and invited students to network with me. Though they didn't ask many questions they did ask important ones. On the way out several took me up on my offer to connect. I also suggested that perhaps Career Services might consider creating an online community for each graduating class and recruit mentors to interact with students.
Students who take advantage of online professional networking early in their college career will grow an army of soldiers that will be their best resources when it comes the second half of senior year and the job search begins.
What advice do you have for students?