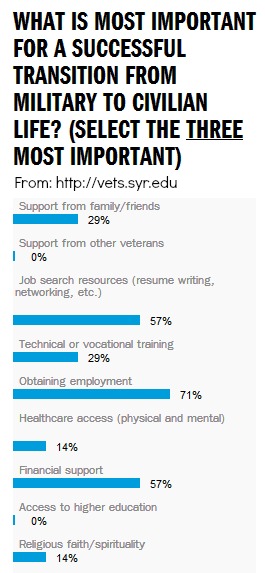 For the past few years I have been writing a post on this day to reach out to those of us who could use a help up not a hand out in transitioning from military to civilian employment - or simply finding that next opportunity... even if that DD-214 has yellowed a little with age (like mine).
As you can see from the Syracuse University Institute for Veterans and Military Families poll results to the left, veterans selected the top priority for transition from military to civilian life as obtaining employment, with job search resources and financial assistance tied for second place and technical/vocational training and support from family and friends tied for third.
Absolutely not meant to be an exhaustive list, here are some very useful resources you may not be aware of that could help you to reach your next career goal.
Last year I talked about LinkedIn's exciting Veterans Hackday 2011 that was going on. There were many excellent submissions and two of the three winners were apps for networking, job search and skills translation. Let's take a look.
Veterans on LinkedIn -Use Veterans to reconnect with other military veterans on LinkedIn. Find insights such as where they work, what types of jobs they have, and where they live. I can see all the veterans I am connected to, where they live, what they do and where they work. This is a great way to network, connect with a mentor and even someone who can walk your resume into the HR or hiring manager's office. Note: Recruiters, this is an excellent sourcing tool.
MOCHA (Military Occupational Classification Hack for advancement) -Online tool that allows veterans to search for job postings on LinkedIn using their military credentials.Also lists relevant civilian skills derived from these credentials to help map military experience to civilian jobs. Translating military skills in a resume and in job search engines is one of the most common frustrations for veterans. MOCHA takes care of it for you and suggests civilian equivalent skills that with one click you can add to your profile. Your LinkedIn connections can also endorse you for these skills with one simple click.
Careeronestop - The Veterans ReEmploymentsite provides many tools in one place, from skills translation to job search, education benefits and other types of critical support. This might be a good place to start for new civilians. There is information on eligibility for unemployment compensation for those who are newly discharged from active duty witha branch of the U.S. military and have been separated under honorable conditions. CareerOneStop is sponsored by the U. S. Department of Labor,Employment and Training Administration.
When it's time to do that sometimes daunting job of formatting your skills and experience into a document, the easiest way is to do it methodically, section by section. The Google Resume Builderon Google for Veterans and Families could be just the tool to get the job done. Be sure to check out the other applications Google provides for veterans, to include networking with other veterans via Google+. If you are in IT there is a rich veteran community waiting for you to circle new connections.
The Veterans Technology Program for post 9/11 veterans is designedto assist and prepare veterans as they transition from the military to information technology or operations careers in global corporations.It is a non-credit certificate program offered by Syracuse University for veterans aspiring to careers in information technology in large corporations. Veterans enrolled in the program will receive individualized skill enhancement, insight into corporate culture, and an applied technology education. There is no cost to attend and the campus is virtual. If I were a post 9/11 veteran I would 100% take advantage of this fabulous opportunity.
At the Federal level,VetSuccess.gov has a complete suite of tools, in many ways similar and complementary to My Next Move for Veterans.There are interest inventory profiles, skills translators, resume builders, job search, really too many tools to list. If you are interested in working in VA system to serve veterans, VA for Vets is for you. It's worth a tall glass of iced tea (or whatever) to check them out. I love the way the White House, Department of Labor and VA have really stepped up the technology over the past 4 years. Unfortunately, instead of working together to create one suite of highly effective products, apps and services, they all have them- and they intertwine and are often redundant. It's surely not saving taxpayer dollars but it does provide for hours and hours of browsing and info.
Also, remember that there are vet Reps at your local One-Stop Career Center.
Consider a mentor/mentee relationship with someone who can help you on your pathway to a civilian career through one of the opportunities listed at the National Resource Directory.
If you are a veteran who is well adjusted, happy and comfortable in the civilian world and your career, please consider volunteering to be a mentor to a veteran who has yet to reach your level of civilian success through the same organizations listed at NRD.
That's it for this year!
P.S. I want to help too. Ask your questions below or click the contact button to send me an email. I'll tap my network of Recruiters and HR experts to help out if needed.