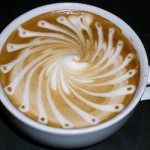 After this morning's coffee over a bulging inbox and ensuing download of Firefox at the serious nagging of Shanx, "Why in heaven's name would someone as smart as you choose to inflict IE7 upon herself?" .. I finally had a chance to check Twitter.
What I found was a slew of @ replies filled with Follow Friday luv. Since I can't turn back the hands of time to yesterday I thought I would express my appreciation via this post and info about what it is that makes these tweeps worth my Saturday afternoon.
Let's roll!
@punkrockHR Laurie is funny and generous in the way she doesn't mince words, extroverted and sweet with a healthy dash of cynicism, an expert at self-branding, an HR pro and she loves cats. Her blog Punk Rock HR is a Top 5 career site with a huge and engaged following and I recommend you check it out.
@MrScrubby is Laurie's cat and he pees in interesting new places.
@SMRecruiting is the Twitter twin of the LinkedIn Social Media Recruiting Group which should be pretty self explanatory but if it isn't just go there. It's safe and educational and good and you will make tons of contacts with other recruiters who are interested in using social media as a recruiting tool. Disclaimer: OK, I'm a co-moderator.
@CIMAPR Are you job hunting in Puerto Rico? Then check out CIMA Services. Tweets good job search tips too. It's in Spanish but I guess if you are in PR or thinking of working there you won't have any problems with that. Behind the tweets are @lucymfel, a tweeter with a real heart who shares job advice in Spanish and English, and @ConsultantRC who owns a Benz and is vegetarian. His tweets are mostly in Spanish but his new Benz blog is in English.
@SignWerks Todd is the owner of SignWerks, located in Kingston, PA. That's just over the bridge from my locale. He provides a great example of someone who leverages social media. There are no sales tweets just engaging conversation and help if you need it. He is also civic minded and always willing to lend a helping hand. At local tweet-ups Todd brings name badges he makes and even cool bumper stickers. He won a local contest I ran on Twitter to teach new users Twitter basics for business at THE Conference in Wilkes-Barre on October 6th.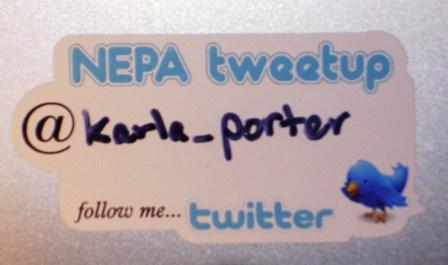 @Fathercabbage Chet is a retired firefighter who hasn't really retired. He loves his community and his profession and does plenty of volunteer work to support them. Let's roll em' down the hill in Honeypot!
@PeterParker_PA Chris is the Online Editor at Times Leader, on of the two local newspapers in Wilkes-Barre, PA. He is often equipped with either a video camera and microphone or a laptop and air card to shoot video or post live updates of news events as they happen throughout the Wyoming Valley. He's often funny and helpful too.
@mlb217 Mandy is an Advertising & PR student at Marywood University, SEO Specialist at Solid Cactus, Freelance Writer and lover of food. You can check out her writing samples on her blog, Miss Mandy's stream of... well, something and if you need some copy writing done, well, you know... give her a shout out!
@JustinWaldrop Justin is a Writer/Blogger/Social media fanatic looking for opportunities in PR/Advertising/Marketing in the Chicago area. Check out @MotivelessCrime, his alter-ego and site. He's a relatively new follower. I tweeted about how I liked his use of Google Sites for his job search and the rest is history.
@atenta Jan tweets for Atenta about recruiting, sourcing, customized search and data mining from Hamburg, Germany, mostly in German but there are plenty of English tweets too. The website can be viewed in several languages and the section about how to obtain employment in Germany is really interesting. The blog is cool, I stumble through it with my own early 80's rusty German language skills.
@havrilla Chris tweets jobs from Hitachi Consulting and about recruiting and sourcing and the use of social media in the profession. She's really friendly and really knowledgeable. Recently, Chris wrote a rockin' post, Why I Recruit - And You Should Career Search - Using Social Media you'll probably want to read. She's also co-moderator of Social Media Recruiting on LinkedIn.
@ki2mylife is Community and Marketing Manager at Glassdoor.com. The career blog at that site has good content for job seekers and the tweets are might interesting and helpful too.
@MikeStivala Mike is the Creator, writer, director of HILLERS, an upcoming series starring Joel Bryant, Tessa Munro, Tom Arnold & Henry Winkler. I have to give the Greater Scranton Film Office tons of credit for figuring out how to get TV and Film productions to come to NEPA.
@FSEnterprises Michael is a local NEPA social media geek who loves music and blogging. He's funny, articulate and helpful. He has a new blog where he has a lot of interesting info on insects. He also blogs about politics and other miscellaneous stuff.
@waltonsearch Shannon shares all kinds of great info on recruitng and sourcing via her tweets in addition to jobs. She is a super resource for social media recruiting tips and co-moderator of Social Media Recruiting on LinkedIn.
@SakibKhan Sakib is a grad student in People and Employment in Auckland, NZ. His tweets are informational and he has a great positive attitude. His blog HR with Sakib Khan is just a few months old but very well done with great content.
@healthydocs Tamyra makes me feel good just following her. You never know, I could be out somewhere and need to tweet with a physician. She has the inside track on how to find them and all kinds of other health care professionals too. Plus, she tweets all kinds of cool medical stuff.
@jobtweet_de In addition to being a cool real-time symantic Twitter job search engine, you get bonus tweets chalk full of job seeking and recruiting with social media tips and news from Hamburg, Germany, in English and German.
@audreychernoff Audrey is Sr. Technical Recruiter / Abstract Artist and Co-Founder of Hirefinders.com, an innovative recruiting platform enabling Employers and Job Seekers to find one another quickly, enjoyably and efficiently. She's are looking for beta testers so get on over there now!
So wow, you can see what I missed working on Friday! I hope you'll find some of these tweeps as interesting and worthy of following as I do...
Before I take off I have one more tidbit of interest. If you enjoy having really interesting reads put before you about a wide variety of topics, then follow @snipurl.
Ciao!