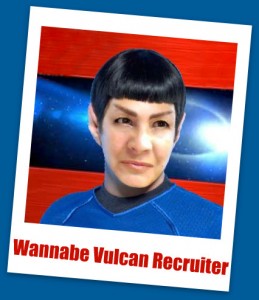 Dorothy Beach, MBA CIR PHR got me thinking. She posted a question on the discussion board of the LinkedIn Social Media Recruiting Group asking for opinions on the effect of social media on recruiting in the far future, 5-20 years down the virtual highway. My mind immediately took a journey to Wish List Lane and Technology Square. If you repeat something enough times and really believe it that makes it reality, right?
In my vulcanesque way of thinking, most everyone on Earth will be digitally literate and have their own domain which will seamlessly be linked to the various networks they choose to participate in. Job seekers and passive candidates open to opportunities will be able to open their networks to candidate searches so they can be found. Job seekers will no longer need to proactively apply to openings.
Companies will conduct searches not job seekers. Recruiters will be consultants to companies hiring and perform more of a job profile / company fit identification role, write the job keywords and parameters and set up the newfangled ATS which will be on a cloud. Software will be coded to meet the requirements of highly specialized queries and it will crawl to find candidates profiles base on the distance you wish to search and import them into your database where you will be able to further refine your search. Boolean strings will be old fashioned and systems will be user intuitive and friendly.
Recruiters will narrow the candidate pool by refining matches and conducting 1st virtual screenings, recommend the top 3 candidates to hiring managers, co-conduct the interviews and assist in the decision making ad placement process. Recruiters, in their expanded consultant role may see new hires through their first 3 months taking an active role in the new onboarding process.
What's your vision?