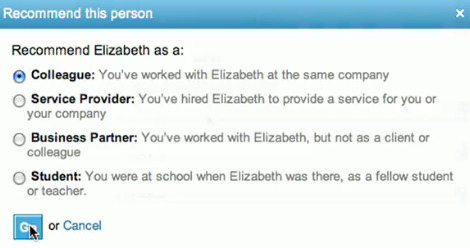 Recommendations are a fantastic and meaningful way to round out and complete your LinkedIn profile. They can be very persuasive when a potential client, recruiter or hiring manager searches you, and if they are honest and well done they also serve as positive feedback from clients, colleagues, managers and staff you know you can turn to for reference requests, profile forwards and help disseminating your resume if you are a job seeker.
Fun Fact: You need three recommendations to have a 100% complete profile.
When they are solicited favors from social networking friends you have never conducted business with, they are undeserved, unfounded props that cheapen the value of well earned, bonafide recommendations.
I have seen a lot of it going on lately and it's unfortunate. I know some feel rules are meant to be broken and guidelines are just that.. but the misuse of a potentially powerful tool like a professional recommendation deserves serious criticism in my book of ethics.
Let colleagues, clients or suppliers speak to your record
I have had several requests for recommendations I felt I just couldn't provide and then sleep well at night. In the case of my intern who just started and enthusiastically followed my suggestion to create an account now in her sophomore year, so she can build a vast, meaningful network of mentors and subject matter experts to take her through the rest of college and into a career, I simply wrote back and said, "I would be happy to write a recommendation for you once you complete your internship - based on the quality of your work."
In the case of others who I have never worked or collaborated for or with on any project... I generally just ignore the requests. You see, I can't recommend someone because I have heard of them, listen to them on an internet radio show, read their blog, or even know of good work they do. It would be like writing a recommendation for Anderson Cooper - I think he does a great job but a recommendation from me is meaningless to his career..
What's the point?
Search current and former clients, colleagues, managers, professors and college class mates you did real work for and with, link up with them and ask for a real recommendation. If you would like to know more about LinkedIn recommendations here is a short video you'll find helpful. As always, I welcome your commentary.
My inspiration for this post goes to M.H. I woke up this morning and over morning coffee I checked my email. There was a LinkedIn invitation from her. I haven't worked with her or spoken with her in 15 months. It wasn't a fan letter. It talked about projects, teams and and our professional relationship. It was truly very meaningful to me. What did I do? I wrote one back...