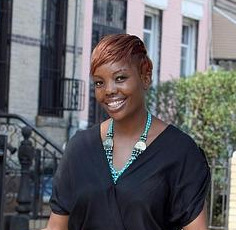 Garina Fearon, a woman with a job many would never consider a dream career, won't be resigning any time soon - even though she won a mega lottery and could clearly choose to reinvent her life in a multiplicity of ways. The Riker's Island Prison Guard loves her job.
She has a background of, and backbone built by, climbing up life's ladder and not succumbing to gerbil wheel feelings of bitterness, victimization and low self-esteem. In fact, she recently made a big mistake - she meant to purchase a Powerball ticket, not Mega Millions. It ended up winning her $54 million (I hope she finds an above board financial adviser to protect her from the ruthless scam artists that surely will prey).
Fearon has had a life of poverty, no stable family as a child - at times in a homeless shelter, a single mother of two and down to $25 six years ago when she finally filed bankruptcy. So, why won't she resign now that she's a multi-millionairess?
Garina says that she feels loyal to the US Correction service, because the job saved her from near-destitution. It doesn't matter that as a corrections officer she is subjected to maltreatment from inmates, it's the fact she was finally able to gain a family sustaining income, achieve feelings of self-worth and self-esteem that will keep her there - at least for the time being.
To me, it's confirmation of the not-so-secret employee loyalty cocktail:
1/3 - Family sustaining compensation
1/3 - Challenging and personally rewarding work
1/3 - Recognition for a job well done
Any employer that has issues attracting and or retaining employees should belly up to the bar...
Looking for a career with advancement opportunities? Join New York's Boldest Become a New York City CORRECTION OFFICER
Salary increasing to $73,546 after 5 1/2 years of service
$1,476 per year holiday pay increasing to $3,051 after 5 1/2 years
Uniform allowance of $1100 per year
13 paid vacation days, increasing to 27 days after 5 years
11 paid holidays
Paid health insurance
Longevity pay ranges from $3,859 to $6,859 after 5, 10, 15, and 20 years of service
Congratulations Garina Fearon and City of New York Department of Corrections - You're both big winners!
Garina Fearon photo by William Farrington for nypost.com