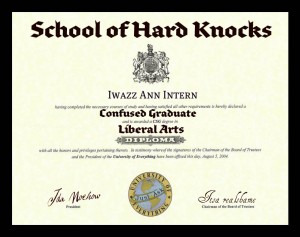 In 2010 I have one concrete albeit ambitious goal, to create the greatest college internship program on earth. The nonprofit chamber and economic development organization I work for approved it and it's officially in my work plan as my number one objective for the coming year. The prospect of helping emerging talent meet opportunity is very motivating and exciting.
There are many flaws in the way current internship programs work.
There are several national internship websites that act as information portals and "job boards". Many employers are not familiar with these websites and when career services offices tell them they need to create employer accounts and jump through hoops they quickly get frustrated and don't follow through. Because these websites are national, companies don't necessarily attract local students. At the same time, most students manage classes and internships during the same semester so they need to stay local. It's important to manage internship programs locally to allow for supervision of and assistance with the intern and employer experience. Introducing students to opportunities with local employers also helps aid in the retention of regional talent and prevention of "brain drain".
Students and employers scramble to find each other. Employers willing to provide an opportunity to a student shouldn't have to work hard to find one or have to reach out to multiple college career services offices to advertise. Student's should understand employer expectations and how to conduct an internship or job search.
Another challenge is the concept many employers have of what an internship is. While there are companies that look to recruit entry level college grads and recognize that "try before you buy" is an excellent way to do it while assisting in the student's education, many times what companies are looking for is cheap labor. Errand boys, envelope stuffers and filing clerks do not require college educations and internships shouldn't be framed around these functions.
The goal is to enlist companies with a mission of community partnership and good corporate citizenship as extensions of higher education. That means that through this program they'll pledge to do their part and take on a certain number of interns per year under specially crafted intern work plans based on job descriptions and goals that will be approved and provide meaningful experiential learning for students.
Students won't just walk into an internship either. They'll apply, interview and go through a selection process just like if it were a regular position they were going after.To help them prepare, they'll attend program administered career preparation workshops to assist them with resumes and interview skills. They'll learn the difference between non-exempt and exempt employees, go through mock orientation and non-harassment training and review and discuss example employee policies and handbooks.
Employers will provide an orientation, an intern mentor and regular coaching and feedback that is documented. Mid and end of semester formal performance evaluations will be conducted and delivered.
Students need to have tools and experience to set them up for career success. The program will provide a one semester real world career experience and the tools to be successful. Employers will have a more productive and functioning junior careerist on board, the opportunity to experience a potential addition to their team and a huge hand in the development of community talent in exchange for their commitment to act as "career labs".
The logistics of the program require centralization to a regional common career services center shared by all area institutions of higher education and employers. This means students from all participating colleges will seek their internships from one source. They won't have to be concerned that not all companies willing to provide internship opportunities haven't reached out to recruit at their particular school. Conversely, employers will no longer have to reach out to many career services offices to announce internship opportunities. They'll also have one contact, one source, to manage their talent search. College career services offices will serve as on campus liaisons for the program and have more time to focus on working with students to identify their career goals and provide resume preparation and interview skills assistance.
As a nonprofit organization at the helm, we'll be happy to share our model with other like minded organizations everywhere who want to improve the ways talent meets opportunity. I'm asking you to reflect and comment here on the positive and negative aspects of your college internship and also about internships at the company you work for. If you have great ideas about what would work better or what not to do I want to hear them. Your comments will help to create the greatest internship program on earth!