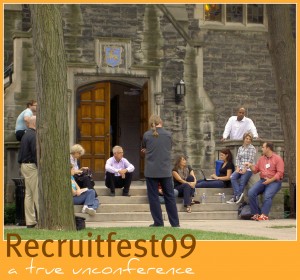 I attended all of the tracks at Recruitfest09. This convergence on Toronto of approximately 80 industry professionals looking for conversation not conference left a very defined impression on me and one big takeaway.
There was conversation on best practices, the influence and use of social media, the candidate experience, how to make more money, and how the industry is changing. That's right.
I'm not going to Sumserize the content or Boorman you to death with details.. Just know that more than 50% of the unconference content was about the imminent change coming down the pike created by efficiencies brought on by technology and client expectations.
Before the unconference I blogged on Vulcan recruiting. The unconference further served to validate the post. Recruiters will become holistic practitioners, adopt new skills, consult on how to attract, hire, onboard and retain human capital. They will continue to drive HR technology and innovate its use.
Practitioners caught up in the daily grind, fabulous at what they do but not in tune with new tools and expectations that are being driven by the economic upheavals of the day, are at a disadvantage because they will not be prepared for new recruiting. Just a phone and a contact list quickly are becoming "not the only tools you need".
Get on board the change train and enjoy the ride.