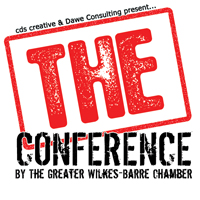 One of the projects I have been busy with for the past several months is serving on the planning committee of THE Conference. I want to share it with you because it is has to be the most comprehensive and lowest price ber-quality event this year anywhere.
THE Conference is the multi-track business conference of the Greater Wilkes-Barre Chamber of Commerce and will bring professional development and networking opportunities to northeastern PA on Tuesday, April 27 at The Woodlands.
The day long, comprehensive professional development and business conference will begin at 8 a.m. with Myra Golden, nationally renown keynote speaker and author of Beyond Wow. Myra consults for organizations that represent the brands and services you know and love to help them differentiate their service experience from that of their competitors.
Multiple tracks in business and nonprofit disciplines will continue throughout the day for C-level, marketing, fund-raising, human resources, entrepreneurship and management. Participants will enjoy interactive sessions on social media, media relations, branding, green marketing, ethical fund-raising, grants, board governance, employment law, recruiting and retention, diversity, business financing, business start ups, economics of technology, digital time management, global trends, capacity building, C-suite challenges and more.
I'll be conducting a session on how to attract quality candidates and retain top performing employees through employer branding and employee engagement. There will be several panel discussions and a number of Toolkit sessions from which participants will walk away with ideas and strategies that can implemented in their business or nonprofit right away.
THE Conference concludes with Cocktails & Connections, a business mixer at 5 p.m hosted by POWER! Wilkes-Barre. What other way would you end an event like this?
If you're in northeast PA you can't miss this professional development and business networking event. If you are not in the immediate area but are looking for a mega quality event at a price that can't be beat then by all means join us! Registration is $99 ($79 for Chamber members and nonprofit employees) and includes continental breakfast, lunch, conference materials and entrance to the Cocktails & Connections networking mixer.
For 6 tracks and 30+ speakers and events for only $99 it's worth driving from NYC, Philly, Harrisburg and even flying in from Texas or Timbuktu... <<---- Go back and read that sentence!

If you're interested in a great way to showcase your business why not rent an exhibitor booth for $150?
Tip for Students: Take advantage of the very special deeply discounted student rate of $49 to come for professional development and to network with potential future employers.
I can't wait to see you there!