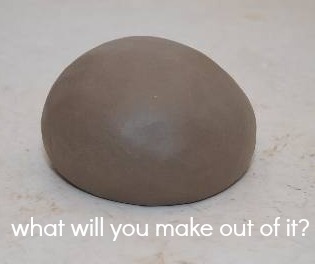 Think of a lump of modeling clay.Kindergartenwas the first time I had the opportunity to mold something other than play dough. Each of my classmates sat with the same portion of the raw material in front of them and we all found a different use for it. Mine became a small rectangular dish, fired and glazed in a very stylish yellow and green 60's kind of swirl. Out of my classmates' abilities to translate visions into reality came little animals, bowls, cups, and a variety of other works.
All out of the same bucket we each took our portion of the same clay and did something different with it.When we look at a feature rich tool like LinkedIn, we have the same ability - to use it however we would like. Like with clay, the options are so numerous that making a list would be an exercise in imagination.
Your perspective, circumstance, imagination and knowledge of the tool drives how you mold a use for it. Some of the most common uses for LinkedIn are job search, recruitment and general professional social networking. All perfectly great uses. Today I want to talk about using it as a career development tool.
LinkedIn is arguably, and perhaps undisputedly, the most comprehensive directory of professionals in every occupation, institutions of higher education and companies that exists. With that comes the most comprehensive source of intellectual and knowledge capital available. When it comes to career exploration, finding a mentor or internship, researching corporate cultures, best practices and other important facets of your career development - and yes by all means, learning about opportunity and networking your way to the hiring manager, there simply is no other platform that competes on the same level.
I encourage high school seniors - and implore college freshmen - to create a profile and use LinkedIn as a tool to
Chart their career, starting with education and following through with work study, internships, volunteerism & paid work.
Use built in apps to host presentations, creative and work samples.
Search for people who do what you aspire to and not just connect - correspond and build relationships.
Join affinity groups based on profession, location, school & interests.
Post questions and search answers and vice versa.
Update your status daily with questions and article links relevant to your career goals.
Add skills as you work to acquire them.
Follow companies you might like to work for.
Ask for a mentor(s) who will do a monthly call or chat with you.
Build your own career advisory board out of relationships you build with people you admire.
There is no need to try to do it all in one day or even one year. Use itproactivelyas a companion to your development activity and you'll find yourself logged in more and more frequently as it becomes the virtual hub for your career.
Someday you'll find yourself in the shoes of a subject matter expert and go to person, giving back by being a mentor, running a group - on and perhaps even offline, and maybe even sharing the journey and technique at college and community career development days.
Go you.