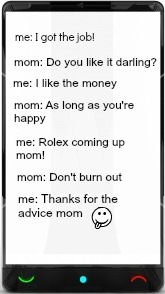 An acquaintance posted relief at landing a well paid position. However, he said he feels out of place in this particular environment, and doesn't care for the field or the job duties he has been hired to perform. His hope is that an opening in another department he would prefer to work in will happen and that he'll be able to make a lateral move.
Is he a good fit for the job?
I congratulated him on landing the job and offered up that I hoped it would end up being a better fit than it sounded... and questioned the selection process. He said he told them what they wanted to hear and that for the amount that they're paying him, he can learn to like it. He lamented about being frustrated at not being able to get a job in the major city he lives in doing what he knows how to do best, due to there being too much competition and less need for people with his technical skills. It's been a challenge for him to get a job he really wants; his last job was also outside of his preferred career path.
I was curious to know more about how he landed a job he didn't care for and was only enthusiastic about in regard to the compensation. He shared that he had afriendwho worked at the company who knew he was looking for a new job, and said that he could put his resume in. There was nothing available in the department he was truly interested in - but a position opened up in a different area. His friend told the supervisor, who was interested. The company was looking for someone who would work long hours, do exactly what they're told, and not complain. Strong work ethic was a top requirement - and he had it.
When heinterviewedfor the job he knew it paid more than everyone else in his household combined. So, he said he sucked it up, and said exactly what they wanted to hear. He said his prior supervisory experience prepared him well for what to say in an interview. He says he has not mislead anyone or misrepresented himself and fully intends to follow through on everything he said. He said he never claimed to like the field but had they asked he would have lied to get the job.
Why understanding motivation counts
You might see that this person stands out as an individual motivated by the money. He certainly has pledged to, and seems to be willing to, do what it takes without waiver to earn a salary he is very happy with. If he can learn and perform to meet the company expectations, be a good employee otherwise and sustain his satisfaction with the compensation versus the job itself, he could turn out to be a very good hire. However - it doesn't appear that the company understands his locus of motivation at all, and that's unfortunate. It reminds me of the infamous dress down pass for doing a good job that doesn't mean anything to someone who loves to come to work in a suit.
Ability is what you're capable of doing.Motivation determines what you do.Attitude determines how well you do it. -Lou Holtz
Perhaps the employee recommendation paired with an enthusiastic but not highly skilled interviewer resulted in the job offer. Perhaps the guy just really rocked the interview with attitude and answers... Maybe they just wanted to give him a chance because he seems like a hard working good person. We'll never know.
Will he make a lateral move and how long will that take? Will he burn out from frustration and leave?Will they be happy with him and keep him or let him go?
I wish him and the company the best on their decision and will remain curious to see how this plays out.
Was this candidate a good hire? What's your opinion?
P.S. For more on motivation and job fit check out Hiring People, Not Just Skills byChris Havrilla