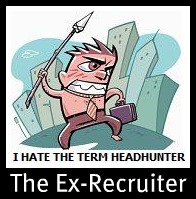 Arleen Sarppraicone and Shenee Rutt both came to my attention as job seekers via Twitter. Having both been unemployed for some time as casualties of corporate downsizing, they were experiencing doubt about their job search strategies. Paul Paris invited them to be guests on the debut episode of The Ex-Recruiter Prime-Time Extreme Candidate.
Expert panelists Jeremy Worthington, Janice Worthington, August Cohen and Karen Siwak took a firm but gentle approach in their guidance.
Shennee was interested in tapping the talent of the experts because she has been unemployed for a year and felt the need to gain traction, and positive focus. She said in this economic climate, there are many who can use some positive nudging and commented, "Some great feedback from listeners came in and the takeaways are priceless. My hope is that other job-seekers benefited from the great forum and the advice given." Shennee also said, "Paul's show is a fantastic launching pad to highlight great people and to aid in returning to the workforce. Please continue to tune in, and support the highlighted job-seekers."
Though she was initially somewhat nervous about being coached in public, Shennee's enthusiasm for her job search has been seriously kicked up more than a few notches. She told me, "I am already working with some of the great professionals listed here and cannot wait to see what develops. I'm Filled with Optimism that 2010 willbe a great year and I'm ready to go!"
Arleen summed up the experience this way:
Here is some solid advice stated collectively by the panel members Search strategy defined + Good resume utilized properly + creative opportunities+ Presentation = Its showtime!
The show started with August Cohen's Cohen Sense critique of Arleen's resume, answering three questions she had intended to ask, prior to asking them. She went on to say one of the Aha moments for her was a comment made by Karen Siwak. "She reminded me of her own thought process in the concept of asking so what after each sentence in your resume. She kept asking so what?? You did this and that so what?? So what?? - tell me more within the resume with quantifiable data, what value are you adding to the next organization? How did you contribute to the organization, very dense on detail, tell your story and lure me into your resume."
Both Arleen and Shennee told me about the takeaways they are putting into practice:
Jeremy Worthington reminds us to make the top 25%of your resume count, and to use keywords from job descriptions.
August Cohen says to "bring sexy back" to the resume, and to brand yourself.
Karla Porter says to "Dazzle them from the start" and tonetwork with successful people who can give you leads.
Janice Worthington wants us to learn our ABC's A:What do you want? B:What do you know how to do? C: Prove you have done it!
In the words of Arlene:
This was a very exciting opportunity and there were so many more advanced resume suggestions/questions on the show-I highly recommend listening in and get yourself prepared for the next Extreme Candidate Makeover Show 2/8/10 8PM EST.
That's a wrap until next time!