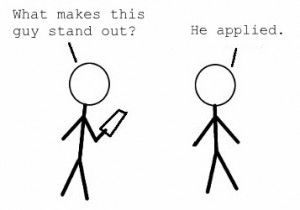 My phone rings and the Recruiter/HR voice on the other end and I exchange customary pleasantries. The weather. The weekend is around the corner. So and so moved on to another company.
Then like clockwork the question is posed... Do you know anyone for this job? The candidates I'm screening aren't cutting it.
I ask to see the job ad. No, not the job description, the job ad.
Ugh.... Sounds like something you could be sentenced to for insider trading.

We coach job seekers all the time to ditch the laundry list resume format in favor of telling a story to stand out from the rest of the vanilla bullet pointed documents that are in so many ways reflections of the job descriptions most all recruiters are accustomed to posting as job ads.
It's easier to copy and paste the job description with every minute detail and the standard other duties as assigned CYA because
That's the way I've always done it and that's the way everyone else does it.
I don't know the people at iloverewards.com but Razor Suleman, Founder & CEO - speaks to me telepathically through the Internets. I feel like I'm shaking hands with him by just touching my computer screen while I read the Top 100 Reasons to Work with Us. His top priority is to recruit, retain and inspire great people. If I lived in the Bay Area I would find some nice paper, craft a cover letter about how I was dreaming of working in a culture like the one in the job ads on his site, grab my resume and portfolio and off I would be in a suit hunting him down to deliver it personally.
Give your job ad the litmus test:
Does it reflect your culture and environment, expectations and rewards?
Does it convey who the ideal candidate is, not just the skills and experience that are required?
Does it tell the organizational story in the same vain you expect to see from a candidate's cover letters and resume?
Show me your job ad and I'll tell you if it attracts me enough to be a candi 'date' or makes me want to enter the witness protection program.