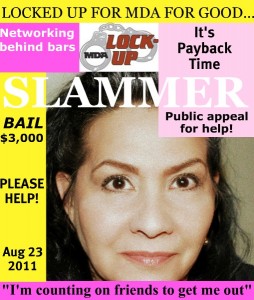 Remember that time I supported your decision, did your resume, helped you with your job search, coached you on interviewing, project or performance management, helped you come up with a work plan, guest blogged for you, connected you to someone you were dying to meet, taught you how to use LinkedIn, walked you through Twitter, gave you my secret recipe, bailed you out of REAL jail, lent you money (hellooooo), volunteered for your favorite charity, baked your wedding cake, listened to you spill your guts without being judgmental, translated your document, sat with you in the hospital while you waited, gave you a motivational talk, helped you identify your strengths and weaknesses and create an action plan to be stronger, sent you flowers to cheer you up, or __________?
I did it because I believe in you, want you to succeed and know that when we help one another we make the world a better place for everyone... Now I'm asking for your help to bail me out of the MDA lock up.
Your donation is key to freedom for the millions of children and adults with Muscular Dystrophy! Be proud of the fact that together we'reproviding help and hope to kidsand adults served by MDA.
I was inspired by Eric Ninden's YouTube video and hope you are too, thanks in advance for making a difference!
http://youtu.be/GrPoY3U3U-k