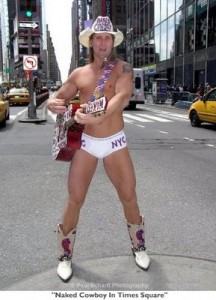 Let me start by saying I like Tory, a lot. She has good advice for job seekers and a perky smile. She is the Employment Goddess at abc.com. She will be at the PA Governor's Conferencefor Women on September 17th.
She's got it going on... Basically, she's out on Time Square hob nobbing with the likes of the Naked Cowboy on Time Square in NYC. Now, tell me, who wouldn't want that job? Tory, if you ever get tired, let me know, OK?We don't have anyone quite like that dude on Wilkes-Barre Public Square.. Maybe we could do a Wife Swap like thing or something.
Like so many things these days, it all started with a tweet. Sheposted this:
"Smart or sleazy to fake job references?" and a link about an abc.com story, Faking Job References for a price. The title intrigued me and I clicked the link. What ensued was a lesson in how to get exactly what it promised, fake job references - for a price. The price isn't all that expensive either. Add to that fake resumes, doctor's notes, landlord references and funeral excuses, you can pretty much live the life you wish to lead... maybe.
And, so I replied, "@toryjohnson Tory, Tory, come on, it's not ethical but smart? YES.... odds r u won't get caught & if u do ur simply back 2 where u started."
Tory had a hard time with my answer, and when I have my HR hat on I do too. Well OK, I had to take my HR hat off to do that. But it was my gut talking and since this occurred yesterday I am now even more convinced I was right.
Ifyou don't get hired it doesn't matter.
Ifyou get hired and they don't checkyour references itdoesn't matter &you can pay your rent.
Ifyou get an offer and they find out the references are fakeyouwon't get the job oryou'll get fired, but thenyou weren't going to get it withyour real references anyway so back to square 1.
I have compassion. If I were out of work for so long that I was heading for eviction I would consider borrowing the money from someone to buy references. If I had gaps in my employment because I was fancy footing around and hadn't grown up yet , but I had changed and now that was holding me back? Yeah, maybe.
I don't judge people on why they make the decisions they do. They obviously make them because they believe in the moment they're the right things to do. The deal is you have to be prepared to pay the consequences. You have to be prepared to be not hired or to be fired if you're caught. I understand for some people and in some circumstances it's worth it to take that risk.
On the other hand, I don't understand why entry level and non-managerial positions require employment references. I think it's an old-fashioned way to do business. I am in favor of criminal and credit history background checks, the need depending on the nature of the job. I think an employer has a right to know. Anything less than lapses in judgment so severethey cause incarceration orsevere patterns of defaulting on credit (though in today's world it's hard to find people who haven't) really isn't my business to put you to work serving food, stocking shelves or running equipment.
As a Recruiter and/orHiring ManagerI need to be able to determine if you have the aptitude and attitude to do the job via performance and behavioral based interviewing. Frankly, the issues you had 5 years ago really don't concern me today. Life can hit anyone at any time and though I have empathy for you not having transportation 5 years ago and poor attendance as a result, I care about your situation today not how you got fired for that.
Never in a million years would I recommend faking references. I was raised right, to be honest, do good and treat others as I would like to be treated. Yet at the same time, I know life isn't always fair and sometimes you can get left holding a bad hand.
So you do what youhave to do. Just be prepared to deal with the possible consequences.
If today's Recruiters are savvy they're going to see right through those fake references. If not, well then the joke's on them.