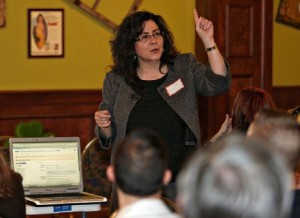 Check out this article by Talent Management Magazine pointing to a nationwide survey of 1,200 workers where one in six workers reported an online social network led them directly to a job. Thats a total of 22 million workers. That's reach! But, building and managing your reputation online means much more than having a profile and perusing.
Are you one of the one in six? If not, you have an area of opportunity to work on. Although you'll find jobs posted on LinkedIn, Twitter and Facebook, job posts are not the power of social networking. The power is in building relationships enabled by these vehicles. It takes some learning and finesse to understand how to be truly effective - or, you can slog through it by trial and error, key and click and hope you land on your feet at an interview.
Before you can be effective in a web 2.0 social job search it's crucial to have a working foundational understanding of social media, reputation management,etiquette,and a strategy.
If you live in northeast PA and want to increase your level of digital literacy, build your 2.0 social skills to help with your job search, help market your business, recruit employees, promote jobs opportunities or your nonprofit, meet others with similar interests, manage an online community, or just demystify the web of tools available today to enhance communication and quality of life, I have news to share:
Luzerne County Community College has invited me to conduct a series of 4 workshops on Tuesday evenings in March, Facebook and Beyond with Karla Porter. It's a hands on workshop in a computer lab that will be held from 6-9pm at the Corporate Learning Center on Public Square in Wilkes-Barre, PA.
From the course guide:
This hands-on novice series of four workshops is designed to build a foundation for using the social webs most popular applications like Facebook, Twitter and LinkedIn, for the purpose of creating conversations, building relationships and reputation management. The workshops will provide hands on experience with account management, basic and advanced features, third party applications and the creation of a social media strategy to help you effectively engage in virtual communities, target interests, promote ideals and events and manage your online personality. You will experience a variety of tools that allow you to participate in the key activities of social media: listening, connecting, contributing, communicating, community, and measuring. The workshops will take place in a computer lab for hands-on exploring the social web, learning and application of the tools. You will leave the workshop with a solid basic understanding of social media / Web 2.0 concepts, key skills for implementing social web initiatives and knowledge of how to build an effective presence and strategy. Target Audience: Students with keyboarding skills that are comfortable using a PC and the Internet that are interested in using social media tools for listening, connecting, contributing, communicating, building community, and measuring.
This is a hot opportunity to tap 12 hours of my time and expertise for $109. - a crazy unheard of deal at $9.08 per hour of instruction.
Go ahead, search social media seminars and courses and see if you come up with something comparable. I'm partnering with the college to do it because I'm committed to increasing the use of this type of technology in the region to help bring the community up to par in its use with other metro areas across the country, increase our market competitiveness and suck us into the age of modernity.
If you're an executive who blocks social media in your company because it's 'scary' I hope to see you there, and bring your marcom peeps too.
P.S. This is a community service not my consulting fee - so catch it while you can!