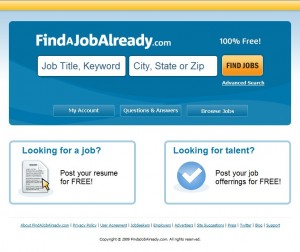 Barak Hullman is an Internet entrepreneur and part of a movement to offer full featured job boards for free. Yes, free. Job boards are usually free for job seekers. They build the talent data base that recruiters and employers use to search for resumes. Most charge for blanket access or per resume download. Some of the big boards charge up to several hundreds of dollars for a one time post and access to the resume database for 30 days - regardless of the outcome.
Of course, smart companies and recruiters have job boards on their own sites and today there are many options for paid and open source (free) job board software. They'll even get picked up by LinkUp at no cost. Others launch lists of jobs and invite job seekers to post their resume on blogs, but the truth is that without robust job board software they don't work very well or ever get much exposure and over time will become cumbersome to manage and use.
Barak has publicly declared FindAJobAlready will remain free forever.. this isn't a BETA phase. Job seekers can post profiles/resumes and search jobs in the US, Canada and UK. They can also read 101 Ways To Find A Job (good stuff). Recruiters and employers can post jobs and search unlimited resumes for free. There are even ATS features --> just like those big expensive job boards have, great for small companies who do not have a budget for posting and access.
If you're a job seeker you can also follow @faja_jobs. They have tweeted 123,065 jobs - that's a lot of opportunity! The only advice I have is that they need to ditch the little bird and put an avatar up.... wake up guys!
One of the IMHO super cool features is a suggestion page. It's smart and just good business.
This is the way to go. This is the right thing to do. FREE Job Boards rock!
P.S. I love the Eshet Chayil amulet on Barak's other site and I'm going shopping there right now.
P.S.S. I don't know Barak but I hope he accepts my LinkedIn invite.