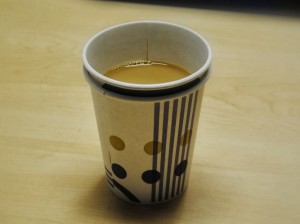 Social media streams are chock full of comments about working from a local coffee shop (I'm not not getting paid to promote brands here). According to this insightful article, some chains and independent caf owners are saying enough is enough. I don't blame them.
Stop milking your latte
Let's be serious, how much value should one reasonably expect to extract from a cup of coffee? Simple math on a small corner shop open 8 hours per day with 16 tables and $4000 per month overhead shows it would need to take in $1.04 per hour per table just to break even. If you're on a $2 cup of java for a few hours you are not paying the rent - and that's abusive.
What to do?
For the past few years I have been enamored withco-working. If I were to open a bricks and mortar establishment, it would be a co-working center in Wilkes-Barre, PA. Before I lost my last job due to the economic woes of the organization, had pitched the idea of a small co-working center in one of its to be built properties and had the green light. I was ecstatic, dreaming about it, researching successful models and creating plans when it all just caved in. But, I remain a huge believer in it and I still dream about it.
Be fair, pay your rent and reap rewards
If you are one of these latte leeches, stop it. Just stop it. Businesses need to maintain a balance between satisfying customers and making a profit. Go find yourself a co-working centeror get some other freelancing friends together to create one in someone's basement or bachelor(ette) pad. The rewards of feedback, brainstorming, creative juicing, space sharing, and countless others will be yours, and you won't have to wonder how long until you get asked to leave.
And, if you're in the Wilkes-Barre area and want to talk abut a co-working center... let's talk.