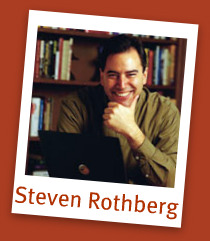 When you visit CollegeRecruiter.com it's kind of hard to leave, especially if you are a Recruiter and interested in recent college graduates and interns. The content is dynamic, encyclopedic and well archived. I first connected with Steven Rothberg, President and Founder of the company, through Facebook. My work locally with colleges and universities in workforce development really sparked my interest in the site and in Steven's work.
Career paths can be amazing journeys and I wanted to know how a law school graduate ends up with the dream of having the the premier information source for college students, grads and recent graduates who are seeking employment, continuing education and business opportunities. He graciously agreed to an interview..
SR: I was a law clerk for a year with a trial court and had been hired for an appellate court clerkship the second year but I decided to accelerate my plans by going into business a lot sooner than five to seven years after graduation. I had figured that I'd practice law for the experience and then either start my own business or join someone else's but I didn't like what the practice of law was doing to some of my friends and I was a lot more excited about the world of business than the world of law so I let the appellate court judge know that I wasn't going to show up, he hired a replacement, and I started my business part-time while I was completing my trial court clerkship.
I wondered what type of internship experience he had in college and what he thought of it looking back.
SR: I had a number of career-related positions but virtually no one had "internships." It just wasn't a term that was used that much back in the 1980's. One of the best jobs that I had was after my sophomore year when I spent four months working as a highly paid temp in London. It was my job to help a national retailer that had virtually no computers figure out how to computerize its management compensation review system. They wanted to formalize the process to make it more fair and figured that it was the logical time to computerize that portion of their business so I created a Lotus 1-2-3 database with loads of easy-to-use macros so their secretaries could keep it up-to-date and I trained them on how to do that.
Working so closely with institutions of higher education that are concerned about placement for their students, I asked Steven his thoughts on how the average career services office on campus meets the needs of students seeking meaningful internships.
SR: Unfortunately, the average career services office does not come close to meeting the needs of the vast majority of its students because the vast majority of students never give the office a chance. Nationwide, only about 15 percent of students even step foot into their career service office and I've heard estimates that fewer than five percent actually find internships or jobs upon graduation through their career service office. The problem is much more with the students than the offices as the offices tend to be staffed with dedicated, well trained, and professional people but they're fighting a losing battle in trying to lead that horse to water and make it drink.
Living and breathing the transition from college to career, I wanted Steven's opinion of what they could do better.
SR: I would like to see career service offices return to becoming placement offices. If they don't, I suspect that within a decade many colleges will outsource that function to outplacement agencies like Lee Hecht Harrison. It will be cheaper and I think that the students will be more likely to use a service like that in part because their parents will recognize the value better.
From law school to career development and transition, there had to be a path that led Steven to collegerecruiter.com. It turns out that his entrepreneurial spirit developed early on, as a student.
SR: I created a small business in college that published a map for my school. I generated the revenues through the sale of advertising around the borders. I then resurrected that business after graduating from law school. To diversify revenues, I added an employment magazine in four major markets across the country in 1995 and then the Internet came along so we added a web site in 1996. That gradually took over the business so by 2000 we had stopped publishing the maps and magazines.
After 14 years in the business, 9 of them exclusively internet based, I was curious to know the impact CollegeRecruiter.com has on college students and recent graduates from Steven's perspective.
SR: CollegeRecruiter.com is one of the valuable tools available to college students searching for internships and recent graduates searching for entry-level jobs and other career opportunities. We help hundreds of thousands of students and grads each month better prepare themselves for the job hunting process and their careers as well as help match them up with leading employers.
Finally, I really wanted to know the vision for the future of the company and its product. Could the leading job board for college students hunting for internships and recent graduates looking for entry level jobs and other career opportunities continue to innovate and evolve?
SR: I would like to see CollegeRecruiter.com be widely recognized by those in college recruiting as the dominant college job board and I believe that we will get there within a few years because we focus on the needs and wants of our candidate and employer users AND we're continually adding and improving the tools we make available to both groups. Most job boards are stuck in this rut of selling job postings and resume searching and very little else. We sell job postings but it is far from our biggest product by revenue and we stopped selling resume searching 1.5 years ago to protect the candidates using our site from identity theft and other such issues.
Just for fun I wanted to see how Steven would craft his career into a Twitter resume... just for the heck of it.
SR: Founder of CollegeRecruiter.com, the leading job board for college students and recent grads.
Many thanks to Steven for sharing his interesting career path and vision for the future.