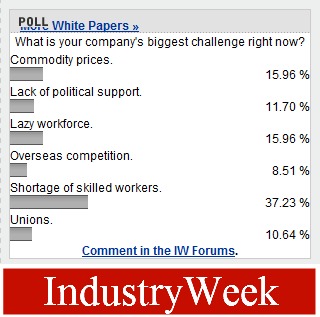 All this talk about unemployment still being too high - I agree, everyone who can work ought to. That is most everyone because no matter what your situation is most likely you can do some type of work. All work is dignified and equally important (except for a couple of jobs I don't want to talk about right now - and yes, they are legal). So, whether one works as a deodorant tester, in waste management, as an audience extra or in geophysics it's all good.
There are many reasons people are unemployed. Many reasons. Underemployment is one thing - it sucks. But for the person of average intellect and ability, to be unable to attain any type of employment is really rather difficult to fathom. People tend to hold out looking for their dream job until the end of unemployment compensation is near and then they feel 'forced' to settle.
Employers on the other hand have another issue, one they are really beginning to ring their hands and bells about. IndustryWeek has a poll going and I saw it in an email update this morning. The question is, What is your company's biggest challenge right now? The winner may be surprising to many - it isn't the economy, tax credits or overseas competition, it's shortage of skilled workers.
As a job seeker that must seem so confusing. If you are reading this there is a very high probability you graduated high school and quite a good chance you have at least an undergraduate college degree. How could it be that the number one challenge for companies today is finding skilled workers?
Some companies like AT&T,feeling the pinch of a clearly identified talent gap between the US and foreign countries - particularly in highly technical fields for jobs that outsourcing really isn't an option,are starting to take matters into their own hands. AT&T is going as far as to create community programs to ensure a skilled candidate pipeline. "We are interviewing 11 people to find one qualified candidate," AT&T CEO Randall Stephenson told CNNMoney in arecent interview. "It's stunning to me." To help stop the gap so they can continue to do business, they are putting out $350m to groom new US workers through their Aspire program.
Woods Bagot recently commissioned Global Strategy Group, a prominent research firm, to conduct an online survey of over 500 elite business decision-makers across North America.The results show that graduates are falling short of expectations, especially on highly valued attributes like problem solving, collaboration, written communications and critical-thinking skills, while they are exceeding expectations on little-valued social media and technology skills. The study cried so loud that Fortune screamed Executives to new grads: Shape up!
Tenured workers have their own challenges in the areas of remaining relevant, upskilling and being flexible with the demands of the 'new workplace' (or at least it's a perception bias called ageism).
Laid-off workers ages 50 and older are about one-third less likely to get hired than younger job-seekers, according to a study by the Urban Institute, a Washington-based think tank. - Chicago Tribune
The answer toappeasing and meeting employer needs is complicated at the societal level. We need to revamp education, launch public awareness campaigns about industry, economy and where the real opportunities are, help people make informed choices about careers and rethink the way the employment model we have been under since in the industrial revolution busted onto the scene is faltering. We also need to contemplate changes to what the term 'career' has traditionally meant and what it is morphing into.
While you may laugh (or cry) out of frustration because none of the paragraph above can possibly happen in time to help you - there are things you can do at the individual contributor level.
If you are struggling to find suitable work the first thing you can do is stop submitting your resume and start requesting informational interviews to see where the gap is between what you bring to the table and employers want.
Follow that up with having your documentation aka cover letter and rsum critiqued by someone in the field at management level that you trust that isn't a friend.
Then, apply the feedback you have received - for surely you will have received some very valuable advice.
In the short term, unemployment is the perfect time to regroup, get an educated handle on the future and come back stronger than ever.
You can do it.