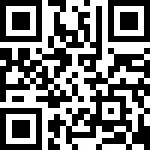 A QR code (Quick Response code) is a two-dimensional matrix bar code that is used to identify products or information. It can store up to 4,296 alphanumeric or 7,089 numeric characters - a lot of information. Click the cute abstract graphic to the left and you'll go to my jumpscan page. Create an account for yourself while you're there.
Today on Facebook my network is signing up for jumpscan in droves. Jumpscan is one of many apps available for QR code creation - but it's a great one and provides users with a scanable QR code for a virtual vCard. If you scan the QR code image with your scanner enabled smart phone instead of clicking on it, you'll arrive at my virtual vCard without having to use your device's keyboard and be able to store it or bookmark it. It would be cool if you saved mine.
In order for the QR code to be useful, you need a smart phone with a scanner app to be able to read it. There are several out there for any kind of smart phone but I have a Blackberry Tour and and use Apodidae, now available from BlackBerry App World. Apodidae is a scanner but also allows you to create QR codes right from your smart phone.
Traditional use for bar codes has been to to enable the product to be scanned for price, date of manufacture, location of plant, date of expiration, inventory, etc. That's historically been very helpful to manufacturers and retail but not to consumers.
Welcome To Bar Codes Unleashed
Now that you have the background on what QR codes are, you might be wondering how they could possible be of value to HR. Here are 10 creative ways that HR Special Agents like me use QR codes. The one thing to keep in mind, of course, is that depending on the organization you work for, or the clients you serve, not everyone has a smart phone - so ensure you always provide multiple avenues for the dissemination of information.
Attending a recruiting event or job fair? Create a QR code for the company job board and print it on company promo cards to distribute to attendees.
Are you a green employer? Print your job board QR code on a flier or poster and let job fair attendees scan it as they walk by (saves some of your recruitment budget too by reducing printing costs).
Print the company job board QR code, or your professional jumpscan that includes that URL, on your business card.
Make the QR code to your online employee handbook available to your associates so they have a mobile version.
Have a list of benefit providers online? Give it a QR code and and post the image on the same page so employees can capture it and have it in their phone.
Does your company have an employee discount program? Give it a QR code and send out the image in an email to staff. They'll appreciate it on the road.
Do you wear a lot of hats to include organizing company events? Put the QR code for the Google map of your next event on the invitation so no one gets lost.
Need a cool way to send out a company announcement? Create a web page with the info and send the QR code.
You don't create web pages? Create an invitation or announcement in a document, save it as an image and upload it to free file hosting (Flicker, Picasa, etc.) - mark it private, give it a QR code, save the image and send it out. It will cause curiosity and excitement in a perhaps otherwise unexciting work environment.
Post QR codes of staff next to their online photos/bios so visitors can effortlessly save contact info.
Hat tip back to Mike VanDervort for taking the lead on QR blog posts today - he has creative uses to share too. What about you?